Icon with Crucifixion (ca. 950)
Byzantine Period
Notice the use of Scripture in the picture.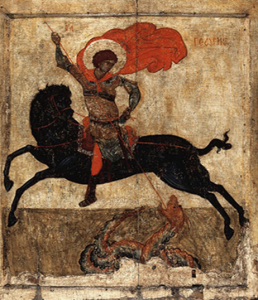 Icon of St. George (ca. 1400-1450)
The British Museum
Example of Christian art not depicting God or scripture.

The Crucified Christ with the Virgin Mary, Saints and Angels(1502-1503)
Raphael
The National Gallery
Notice the use of liturgical elements in the painting.
Depicting not Scriptural accuracy, but traditional interpretation.

Christ After the Flagellation
Contemplated by the Christian Soul (1628)
Diago Velazquez
National Gallery
Notice the guardian angel pointing us to Christ
instead of a symbol of the Holy Spirit.

The Crowning with Thorns (1602-04)
Caravaggio
Kunsthistorisches Museum

The Preaching of Martin LutherLuther (1547)
Lucas Cranach
Notice the Word of God is open and being read to
the congregation.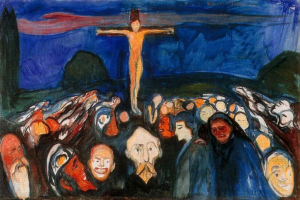 Golgotha (1900)
Edvard Munch
Notice how people become more defined by walking
away from the cross. Experience driving understanding
of the cross does not hold a high view of Scripture.

Christ and the Word
Notice Jesus is surrounded by the four symbols
of the gospel, he holds open the Word of God,
and both Peter and Mary are pointing to Christ and
the Word of God.